Next in our series of countertop materials is Engineered Quartz. Sometimes confused with Quartzite, engineered quartz countertops are a manufactured product that look similar to natural stone, but are really a combination of quartz, resin, and pigments. Why go to the trouble of mixing these properties into the quartz? Because it adds the extra benefits of durability, low maintenance, and color consistency that countertops made with completely natural stone don't have. This is leading to the explosion of popularity in this countertop category.
How Engineered Quartz Countertops are Made
Unlike natural stone, engineered quartz gets its color from the addition of pigments that can be customized to fit nearly any color scheme. Resin binds everything together and adds slight flexibility, making the countertop less likely to crack under pressure. Mixing quartz with other materials makes a countertop that is harder and less porous than many other kinds of stone countertops.
Durability of Engineered Quartz
Because quartz is such a hard mineral, engineered quartz countertops are scratch, dent, and stain resistant. Some also have antibacterial qualities. They are also non-reactive with acidic substances. That means you don't have to worry about ruining your countertop just by making a salad, cutting a lemon, or brewing your morning coffee. Because there is resin in engineered quartz, temperatures over 300 degrees may cause it to melt, therefore it is  recommended that you use a trivet for hot pans out of the oven or even some crock pots. The resin does make the countertops resistant to chipping if you happen to drop a heavy pot. Aside from the possibility of melting, engineered quartz countertops will likely never need to be replaced due to damage, which is probably why many of them come with an extended warranty. They also do not require sealing, as natural stone does every few years. Because it is available in very large sheets, engineered quartz won't have many seams like natural stone and can be used in large sheets for backsplashes and vertical surfaces like shower enclosures in addition to countertops.
Styles and Colors of Engineered Quartz
The enormous array of colors, styles and finishes available are what make this product so desirable. Because the coloring can be controlled by the type and amount of pigments used, the color possibilities are nearly endless. The patterns and colors in natural stone countertops can vary significantly, but engineered quartz counters will not. The sample you choose will be exactly what you get.  Some manufactures also offer different surface textures. To see  examples of the wide array of colors available from some of the top manufactures, please use the links below.
Engineered Quartz Countertop Maintenance
If you want a low maintenance countertop, engineered quartz may be the right choice. It requires no sealing, and can be cleaned easily without the use of abrasive cleaners. A simple wipe with a moist towel is usually enough to keep these countertops looking like new. If you have a difficult mess that requires cleaning products, be sure to use a gentle cleaner and non-abrasive cleaning pad. Some manufactures also mix silver ions into their countertops to make them antibacterial. If you happen to leave a few germs behind when cleaning, they won't last long on contertops with this added protection.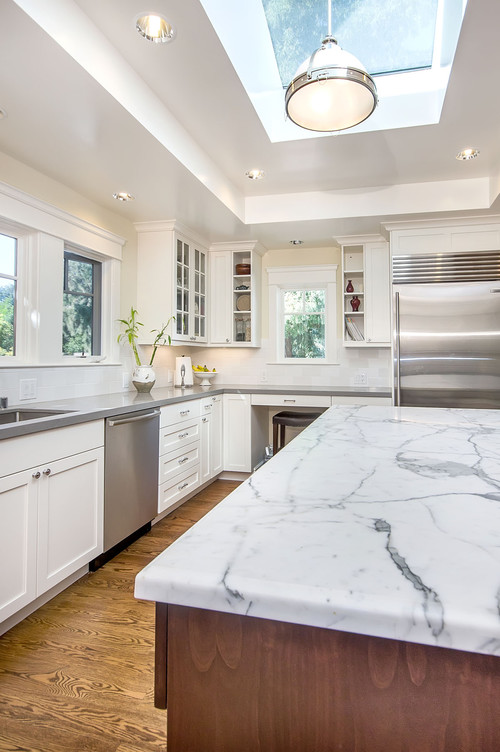 Cost of Engineered Quartz
You can expect to pay somewhere between $50 and $200 per square foot installed for engineered quartz. Prices vary based on manufacturer, location, and color. Because it is made in slabs, it is possible to find remnants for significantly less.
Engineered Quartz Brands
Several companies offer quality engineered quartz products. Among the most well know are: Caesarstone, Cambria, and Silestone.